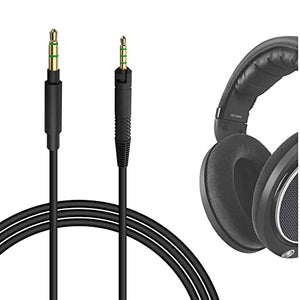 Geekria Apollo Upgrade Cable Replacement for Sennheiser HD598, HD598SE, HD598CS, HD558, HD518 Headphones / Tangle-Free Premium Headphone Replacement Audio Cord (3.5mm Male to 2.5mm Male, 5FT)
Product Features
Geekria Apollo Premium 3.5mm to 2.5mm Stereo Audio Cable is made of pure copper, which could provide maximum's conductivity and durability and transfer high purity audio signal with a minimum loss, bringing you different auditory experience. It's very suitable for music enthusiasts who desire a realistic reproduction of music with hi-fidelity or hi-fi.
Thermoplastic Elastomer (TPE) and rugged, engineered Polypropylene Yarn ensure the superior audio transfer against electron magnetic or radio interference (EMI or RFI), extreme cold or hot temperature and maximum protection.
2.5mm plug work with Sennheiser HD 598, HD 558, HD 598 CS, HD 598 SE, HD 518 headphones, 3.5mm plug work with most devices with standard 3.5mm Aux Jack, such as headphone amplifier, iPad, iPhone, iPods, MP3 players, Laptops, PCs, Cell Phones, Tablets, Home theatre, speakers, etc.
Cable Length: 5feet (1.7m). Package contents: Sennheiser HD598 Headphone Upgrade Cord X 1
Geekria will replace cable broken within 6 months.
Product Description
Compatible with:
- Sennheiser HD598, HD598 CS,HD598 SE,HD558, HD558, HD518 cable
Note:
- Sennheiser HD 598 Headphone Upgrade Cable only, HD598 SE is not included.
Package Includes:
- 1 x Sennheiser HD 598 Upgrade Cable
(Colors shown in pictures may slightly differ from actual product due to lighting and color settings.)
This product is sold exclusively by GeekriaDirect. Only buy from GeekriaDirect store to get genuine Geekria(TM) products with superb customer service.
*The product is aftermarket product made by Geekria. It does not bear any trademarks that are owned by the original headphone company, and the seller is not affiliated with the headphone company, in any way
---
We Also Recommend
---